The prime minister is to call for better value for students in England, admitting they face "one of the most expensive systems of university tuition in the world".
Theresa May will announce an independent review of fees and student finance on Monday.
She will also argue for an end to "outdated attitudes" that favour university over technical education.
Labour says it would abolish fees and bring back maintenance grants.
A day of reckoning for tuition fees?
Greening says wrong to scrap maintenance grants
10 charts showing the impact of tuition fees
Which degrees earn the most?
Your questions answered on student debt
Mrs May, announcing the year-long review of student finance and university funding, will warn that the system has failed to deliver sufficient competition on price – with almost all courses being charged at the maximum £9,250 per year.
For many students, the prime minister will say, "the level of fees charged do not relate to the cost or quality of the course".
There are "serious concerns" about the cost among parents and grandparents as well as students, she will say.
There is a temporary freeze on fees at £9,250 and that is likely to be extended for at least another year during the review.
'Value for money'
Education Secretary Damian Hinds said he wants "more variety" in the level of fees, rather than almost all courses and universities charging the maximum amount.
He also calls for more flexibility in how courses are delivered, such as two-year degrees, encouraging "commuter degrees" where students live at home and making it easier for part-time students and those who want to carry on working while studying.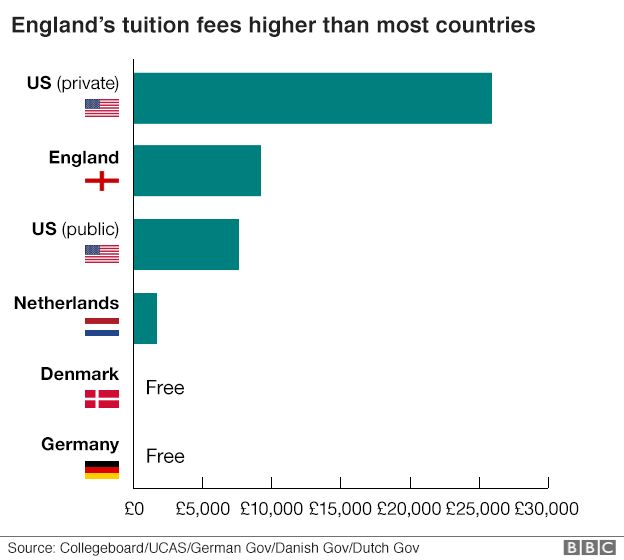 But there have been no suggestions from ministers that the review will consider scrapping or radically reducing fees, or replacing the system with a graduate tax.
"If you've benefitted from a university degree, we know that typically people earn over £100,000 more over the course of their life… then you should be making a big part of that investment," Mr Hinds said.
Former Labour education minister, Lord Adonis, called for a more significant change – arguing that fees should be much lower or abolished, in the way that had happened in Germany.
He accused universities of being "bloated" on high fees and said they needed to "get real" over how much they should charge.
But Lord Adonis rejected the idea of different subjects having different costs as a "big backward step", which would reduce numbers applying for science subjects, if they became more expensive than arts and humanities.
The tuition fee review also will consider ways of reducing costs such as cutting interest rates on loans – currently up to 6.1% – and reintroducing maintenance grants for disadvantaged students, as well as examining the level of fees.
Poorest with biggest debts
Mrs May will say the review needs to make sure poorer students can have an "equal chance".
Students from poorer families are offered bigger loans for living costs than better-off students, who are expected to be partly supported by their parents, but it means they graduate with bigger debts.